The subject of this article has no official name.
The name used in this article is either a fan nickname or conjecture.
Crawler 
(
Japanese:
クローラー
Crawler
) is an enemy that appears in
Bubble Bobble Double Shot
. Crawlers are yellow enemies with four legs that can fly. They are encountered in mountainous areas.
Abilities
Edit
Crawlers have the ability to fly. They have also been shown to climb up rocks, as shown in a cutscene in Bubble Bobble Double Shot.
Appearances
Edit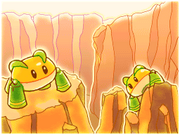 Crawlers appear as an enemy in Bubble Bobble Double Shot. They fly around, trying to hit
Bub
,
Bob
, and
Bubu
. The second boss is a
Giant Crawler
that can create smaller Crawlers.
Ad blocker interference detected!
Wikia is a free-to-use site that makes money from advertising. We have a modified experience for viewers using ad blockers

Wikia is not accessible if you've made further modifications. Remove the custom ad blocker rule(s) and the page will load as expected.